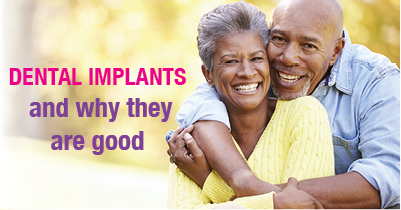 Despite the improvements made in dental care and dental technology, there are still millions of people who suffer from tooth loss. Whether it's caused by gum disease, decay, or injury/accident, the fact is, tooth loss is not an uncommon dental problem. At my dental office in Buckhead, we always like to let our patients know about the options available for them. While there are a few choices available to replace teeth, like a bridge or a denture, dental implants are the solution that is closest to having your natural teeth.
Missing teeth can not only affect your smile, but also your overall health as well as the health and strength of your other teeth. When a tooth is lost, you lose chewing ability, which can affect your nutrition. Your remaining teeth may begin to shift, tip, or become crowded, creating additional problems. Dental implants solve all these issues.
Not only does a dental implant replace the tooth itself, it also replaces the tooth root. This means that dental implants have benefits that other options don't have. Some benefits include:
The freedom to eat what you want with no worry of slipping dentures.
The ability to brush and floss as normal. No soaking necessary.
A permanent, strong solution.
Maintaining bone and gum support for the teeth next to the space
The process for placing a dental implant begins by meeting with your Buckhead dentist. An individual plan will be developed, and you'll be able to start treatment. First, the implant post, which is made of titanium, is placed into the bone of your jaw. As it heals, your bone actually fuses to the post, making it a super strong anchor. Once healing is complete, an abutment is attached to the post. The abutment provides a place for your restoration to attach. Now it's time to add the crown, which acts as your new tooth. After impressions of your mouth are made, your dental team will custom create a tooth that matches the shape, size, and color of your natural teeth.
If you're missing teeth and are ready to start smiling with confidence again, call my Buckhead dental office to learn more about how dental implants can keep your mouth, and your body, healthy. We'll work with you to make sure you understand the benefits of the treatment, discuss your goals, and evaluate the best treatment for you. Get back to smiling. Call us today.
Serving patients in Buckhead, Atlanta, Sandy Springs, and surrounding areas.