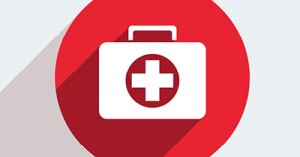 Any emergency is serious and should be treated as such. Dental emergencies, which include any injury to the teeth, gums, or mouth, are no exception. At my Buckhead dental office, we understand that a dental emergency can be scary, so we're here to help give you a few tips on how to handle several types.
Abscess
An abscess is a very serious dental problem and should not be ignored. An abscess is an infection that affects the root or the space in between teeth and may feel like a painful pimple-like protrusion on the gums. If left untreated, an abscess might damage surrounding teeth, tissue, and the infection can even spread to other parts of your body. Because of these very serious concerns, it's extremely important to get to your dentist as soon as possible.
Tooth being moved or completely forced out
Teeth can be moved or even completely knocked out the mouth by force from trauma caused by many different accidents.  If this happens, obviously you want to see a dentist as soon as you can.  If the tooth(or teeth) are displaced try to push them back into their original position.  If the tooth has completely come out, find the tooth and place it into water or milk until you get to a dentist.
Chipped/Broken Tooth
A chipped or broken tooth might result from anything like a popcorn kernel, opening packaging with your teeth, a fall, or just may be the result of clenching or grinding your teeth. When a tooth is chipped, the first thing to do is rinse your mouth out with warm water and find any pieces, if possible, and rinse them off, too. Then apply gauze and slight pressure if there is any bleeding, and a cold compress to the cheek to ease pain. Get to your dentist to fix the chip.
Toothache
A toothache is your mouth's way of letting you know that something is not right. Ease the pain and help keep other problems away by first rinsing with warm salt water. Salt water can help decrease swelling. Over-the-counter medication such as aleve, advil, tylenol, etc. can help.  If the pain is severe, try placing a cold compress against your cheek or apply a bit of clove oil to the sore spot. Again, get to your dentist as soon as you can.
One of the best ways to avoid a dental emergency in the first place is to maintain regular visits to my dental office in Buckhead. Regular checkups and cleanings allow us to catch and treat any potential problems before they can turn into an unexpected dental emergency. However, anything can happen at any time, so if you do experience an emergency, give us a call right away.
Welcoming patients from Buckhead, Atlanta, and Sandy Springs.