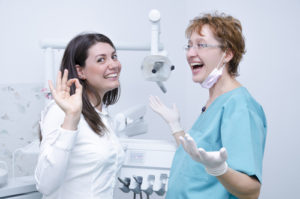 When patients visit my dental office in Buckhead, we make it a priority to go out of our way to make sure they feel like they're part of our family. I truly enjoy helping patients achieve and maintain a healthy smile, while feeling comfortable and at ease.  Below is a couple of the many things that make being a dentist so incredibly rewarding.
I Care For You and Your Smile
As your Buckhead dentist, I care about getting to know patients personally, to really understand them as a person.  I feel fortunate to have the opportunity to help people feel better about themselves on a daily basis. It is also important for me to take the time to help my patients truly understand their present condition and help facilitate a process for them to choose what is best for them individually.  I care deeply about not only making sure you have healthy teeth, but also making sure you have a healthy system that functions well and has no problems or will not develop problems in the future. This involves assessing many things beside just your teeth, including your joints, muscles, and bone and gum support surrounding your teeth.  Why?   Because it is gratifying to get my patients healthy and help maintain them that way long term.  It is fun to see my patients at their continuing care appointments with our hygienist and see their mouths looking, functioning, and feeling great.  I helped them get healthy and now all they need my help with is maintaining that health.
I Get to Work With Great People Everyday
I am fortunate to work with a great team of individuals who truly care for my patients, not just their oral health but as people.  Thelma, my incredible assistant, and I have been together for 16 years. Getta and Theresa, who are the hygienists, have been taking exceptional care of our patients for over 6 years apiece.  We all agree our patients are great people and we feel  privileged to serve them and have long-term relationships with them.  We look forward to seeing our patients daily.      
We are always excited to have patients visit my Buckhead dental office for so many reasons, beyond what we've shared with you here. Please never hesitate to call the office if you or someone in your family is need of our help. We're always ready to help no matter what your dental care needs may be.
Welcoming patients from Buckhead, Atlanta, Sandy Springs.