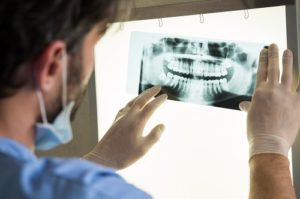 We get asked a lot of questions at our dental office in Buckhead, and we don't mind answering them one bit! We believe that the more our patients know, the healthier their smiles will be. One of our more frequent requests is for more information on dental imaging – why we use them, different types, and especially their safety.
The 3 Most Common Types of Dental X-Rays
There are several different types of x-rays that your dentist in Buckhead may use to look at various parts of the mouth's anatomy. Each type is used for a different reason and can show different problems. Let's take a look at each one.
Bitewing X-rays. These x-rays are helpful in catching cavities early on as they allow the dentist to see places in between teeth that are not visible to the naked eye. Bitewing x-rays can also help identify variations in bone density caused by gum disease as well as help catch any excessive wear in restorations like fillings.
Periapical X-rays.

Along with bitewings, periapical x-rays are quite common. The images obtained through this type of x-ray show the entire tooth — from the top of the crown to the tip of the roots. This allows your dentist to examine each tooth's individual structure and bone level. Periapical x-rays can also help catch cysts and abscesses.  
Panoramic X-rays. Panoramic x-rays show the entire set of teeth, both top and bottom and from left to right, in one photo. They can also display the jaw joints as well as the upper sinuses. These photos can help determine if wisdom teeth are impacted and can even help diagnose a tumor.
Are Dental X-Rays Safe?
Safety is our top priority with everything we do, including x-rays. Advancements in technology have reduced exposure to the already low amount of radiation emitted by dental x-rays. Additional preventive measures, such as the use of lead vests, are also taken to help limit the exposure even farther. We try to follow the ALARA (As Low As Reasonably Achievable) principle which basically says that dental professionals should limit x-rays to only when necessary in order to achieve proper diagnosis and aid in successful treatment.
Other types of Imaging
CT scans.  There are a couple of different types of ct scans.  The most commonly used in dentistry is the cbct or cone-beam technology.  These scans are used to evaluate structures in three dimensions, which is an advantage over traditional dental x-rays that are only two dimensional.  The most common use of a cbct is to plan placement of dental implants.  Periapical lesions, which show that a tooth has infection, can usually be seen earlier on a ct than a traditional periapical x-ray.  Ct scans are also used to evaluate the bony structures of the TMJ for people with joint problems.
MRI.  

Magnetic resonance images are usually taken to evaluate the soft tissue structures in someone who has a TMJ joint problem.

 
How often you should get dental x-rays taken depends on a variety of factors. The team at our Buckhead dental office will take a look at your oral health and any history of dental problems to determine how often you should have x-rays taken. A general guideline our office uses is bitewings every 18 months and a panorex every 5 years.  Obviously these are guidelines and the specific needs are individualized according to each patient.  Ct scans are only taken for specific patients who need dental implants or have a TMJ joint problem. MRI images are only taken on patients who have a specific TMJ joint problem as well.
Serving patients in Buckhead, Atlanta, and Sandy Springs.