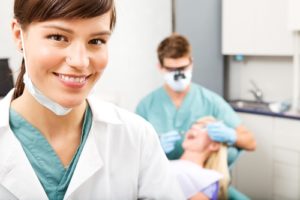 There's a lot to be thankful for as we move into this part of 2019, but October is also a time when the entire nation comes together to observe National Dental Hygiene Month. This is a special part of the year when you, along with your dentist is Buckhead, can take some time out to talk about all of the wonderful things dental hygienists bring to dentistry. 
Without further ado, let's give dental hygienists everywhere the respect they deserve for a job well done in dental offices across America. Let's learn a little more about what they do and how you can even help make their life a little easier when you come in for your regular cleanings.
A Little Hygiene History 
According to Registered Dental Hygienist Magazine, a new type of dental "nurse" began to help with teeth cleanings to prevent decay and disease dating all the way back to the 1880s. Dr. Albert C. Fones trained his assistant Irene Newman to act as an apprentice. Her early duties mainly involved scaling and polishing teeth, much like modern hygienists. Fones could not wrap his head around the term "dental nurse," so he started calling his students dental hygienists instead. A whole new, exciting, and vital part of the dental field was born. (What would we do without them?)
National Dental Hygiene Month first started being recognized in October back in 2009 courtesy of the American Dental Hygienists' Association (ADHA) and Wrigley gum. Together, both organizations saw the need for more Americans to put a heavier emphasis on keeping their teeth healthy.
How Can I Observe National Dental Hygiene Month?
The best way to show your dental hygienist some love is to come into our Buckhead dental office for a cleaning. While you're there, be sure to share how much you appreciate the kind of care your hygienist provides for your smile. 
When you're at home, you can do these things to help maintain all of the hard work dental hygienists and dentists do to keep your teeth healthy.
1) Brush Twice a Day
Remember, the golden rule to brushing is doing it twice a day for two minutes. Make sure you're using a soft brush where the bristles are free from wear and tear. Regular brushing is going to keep bad breath away, help keep teeth free from decay, and make your dental hygienist's day the next time your due for a cleaning. 
2) Floss at least Once a Day
As funny as it seems, flossing made headlines a while back when there was a debate about whether or not it's necessary. Flossing can reach up to 30 percent more of your tooth surfaces where brushing can't reach. You'll be able to get rid of nasty food particles that can lead to decay and disease down the road.
3) Rinse Your Mouth
Mouthwash is a great way to seal the deal on your at-home oral health routine so that you know your teeth are protected and healthy. It also helps to keep your breath fresh. Aim to make rinsing with mouthwash something you do each day after you finish flossing and brushing. An excellent antimicrobial rinse can work wonders for your mouth and breath!
We hope you learned a little something about dental hygienists and what they do. We also hope you reach out to us either by phone or online to learn more about taking care of your smile. If you're scheduled to see your dental hygienist this month for a cleaning, share a big smile and thank you with them for all that they do for you!